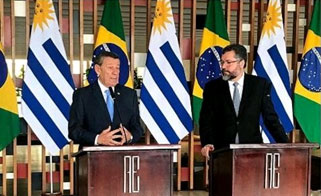 On June 7, 2019, the Federative Republic of Brazil and the Eastern Republic of Uruguay signed in Brasilia a Convention to Eliminate Double Taxation in Taxes on Income and on Capital and to Prevent Fiscal Evasion and Elision.
The signature reflects the country's efforts to expand and modernize its network of tax agreements in the context of increasing mobility of commercial activities and internationalization of companies, totaling 37 agreements signed, of which 33 are in force.
The Convention introduces limits on the tax jurisdiction of contracting countries, eliminating or minimizing the possibilities of double taxation of income, and brings greater security to businesses in general.
In line with the country's commitments under the G20, the new agreement incorporates the minimum standards of the Organization for Economic Cooperation and Development (OECD) Project on Tax Erosion and Transfer of Profits (BEPS), as well as other relevant recommendations of the Project.
Incluiu-se também artigo específico de combate à elisão fiscal e ao uso abusivo do acordo.
It also included a specific article to combat tax evasion and abuse of the agreement.
The new agreement will contribute to the internationalization movement of Brazilian companies that has been observed in recent years, in addition to promoting a better environment for investments in both countries.